Your challenge is to design a concept that is sustainable, satisfactory to the military, and suits with the food-requirements set by the Ministry of Defence.
Timeline
20 weeks of online and 4 face to face activities
The registrations are open until the 15th of December, after which the organizing staff will form the teams. The challenge starts in February 2021 and consists of 4 events, that will take place over the course of 20 weeks. This is a part-time elective course. Each of the 4 face to face events will take place at a different location throughout the Netherlands, from 09:00 - 21:00! The first event starts with a sleepover at a location of the military! The other events take place at the univerisites. In between these events, you will continue to work on your ideas with your own team in your online learning environment.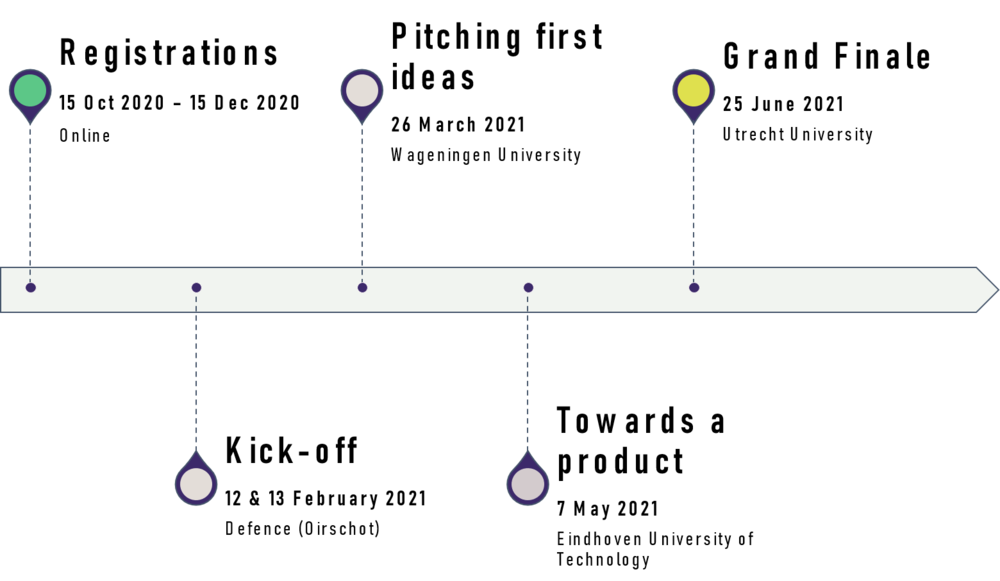 Why join
Join the challenge, and solve a real-life problem with peers from UU, UMCU, TU/e and WUR. In addition, earn 7.5 ECTS!
The Food 4 Health and Safety Challenge gives you an opportunity to solve a real-life problem while working on your personal and professional skills. It consists of inspiring masterclasses, exciting team-building activities, and individual coaching. Join to broaden your network, collaborate with peers from different universities and get acquainted with the industry! A bonus: upon the completion of the challenge you will get 7.5 study points.
For Whom?
The challenge is designed for all third- year bachelor and master students of TU/e, WUR, UU and UMCU from various disciplinary backgrounds who feel passionately about participating in the challenge with a creative, out of the box mindset. The challenge calls for interdisciplinary collaboration. For this unique learning adventure we need creative thinkers, bridge-builders, teamleaders and more!
The challenge
The Dutch armed forces contribute to the freedom, safety, and welfare in the Netherlands and abroad. When on a mission and during the excercise operations they need to withstand many physical and mental challenges. Next to excellent equipment and proper training, food plays a crucial role in the well-being of the military. Check out the video to find out more about this challenge.